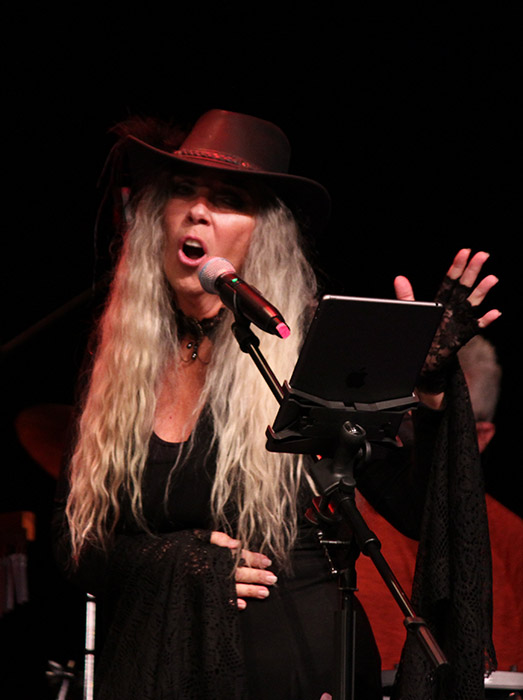 A Theater Like No Other
The Flickinger Center for Performing Arts is steeped in a rich history that sets us apart as a space where performing arts live and evolve. This history informs our mission today, so much so that traces of it can still be seen on the walls and facades of the building even after sixty years of change.
The theater, originally named The Sierra, took its first foray into the realm of New Mexico art in 1956 as a motion picture venue. It first opened its doors to excited moviegoers on May 3rd, 1956, screening "The Lieutenant Wore Skirts" to locals, at the time, taking concessions of $0.65 for adults and $0.20 for children. From the outset, the theater was a place to unwind and experience novel art in comfort – it even lauded offering "the world's most comfortable theater seats" to patrons – an accolade we still hold over sixty years later! This example of prioritizing comfort actually speaks volumes about Flickinger's historic mission, to fashion an environment that is accessible, welcoming, and encouraging to all who participate and take pride in performing. The world's most comfortable theater seats may be an exaggeration, but it is also a symbol of what sets Flickinger apart from other venues: an accommodation of all creative interests, regardless of background, and experience. Flickinger is no longer just a motion picture venue or just a space for local theater groups, it welcomes both of these things and many, many more.
Flickinger's life as a nonprofit organization began in 1988 when Margaret Flickinger bought the Sierra Theater and donated it to Alamogordo Civic Auditorium Inc., an institution dedicated to the provision of performing arts facilities in Otero County. Since then, it has been continually renovated, relying on the generosity of local residents and benefactors to keep its doors open to students, patrons, and performers worldwide. The first of these grand renovations commenced after a year-long fundraising effort – the largest of its kind in Alamogordo – which saw an amazing community effort culminate in the conversion of the old movie theater into a performing arts space with a 40x32 ft stage, an orchestra pit, dressing rooms, and professional lighting equipment. Flickinger never looked back and now flourishes as a space for everyone, with future renovations creating more accessible features, such as handicapped seating and ramp access and a new total capacity of 620 people.
The continuing support of our members empowers us to press on with Flickinger's mission:
To unite the best in performing arts enthusiasts, entertainers, and events under one roof across Alamogordo, Otero, and Lincoln Counties;
To build a space that adapts to the needs of our performers, patrons, and students so that everyone can continue to enjoy world-class entertainment and learning;
To share our passion for the performing arts with our local community and student population and provide creative learning experiences for over 6,000 young attendees.
The Flickinger Center for Performing Arts has been bringing people together for decades. Sharing our skills and nurturing those of others in workshops and masterclasses; inspiring passion for the arts and celebrating our differences through artistic connection, these goals are more important than ever when coming out of such a difficult and isolating two years. It's time to restart making pleasant memories and sharing our love for the arts.
Explore Your Passion